Ian Donaghy


Speaker & Author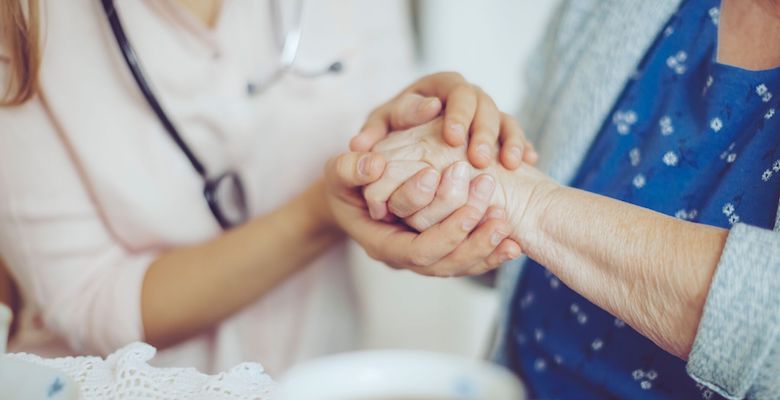 Keynote speaker, and British Care Award Winner, Ian Donaghy, questions why Social Care staff are so often referred to as 'unskilled' and highlights how the perception of Social Care needs to shift.
Topics covered in this article
Social Care Is Often The Media's Whipping Boy
People Who Work In Social Care Are Not Unskilled
Care Is A Vocation, Not A Vacation
Care Attracts People From All Academic Backgrounds
Kindness Is Their First Language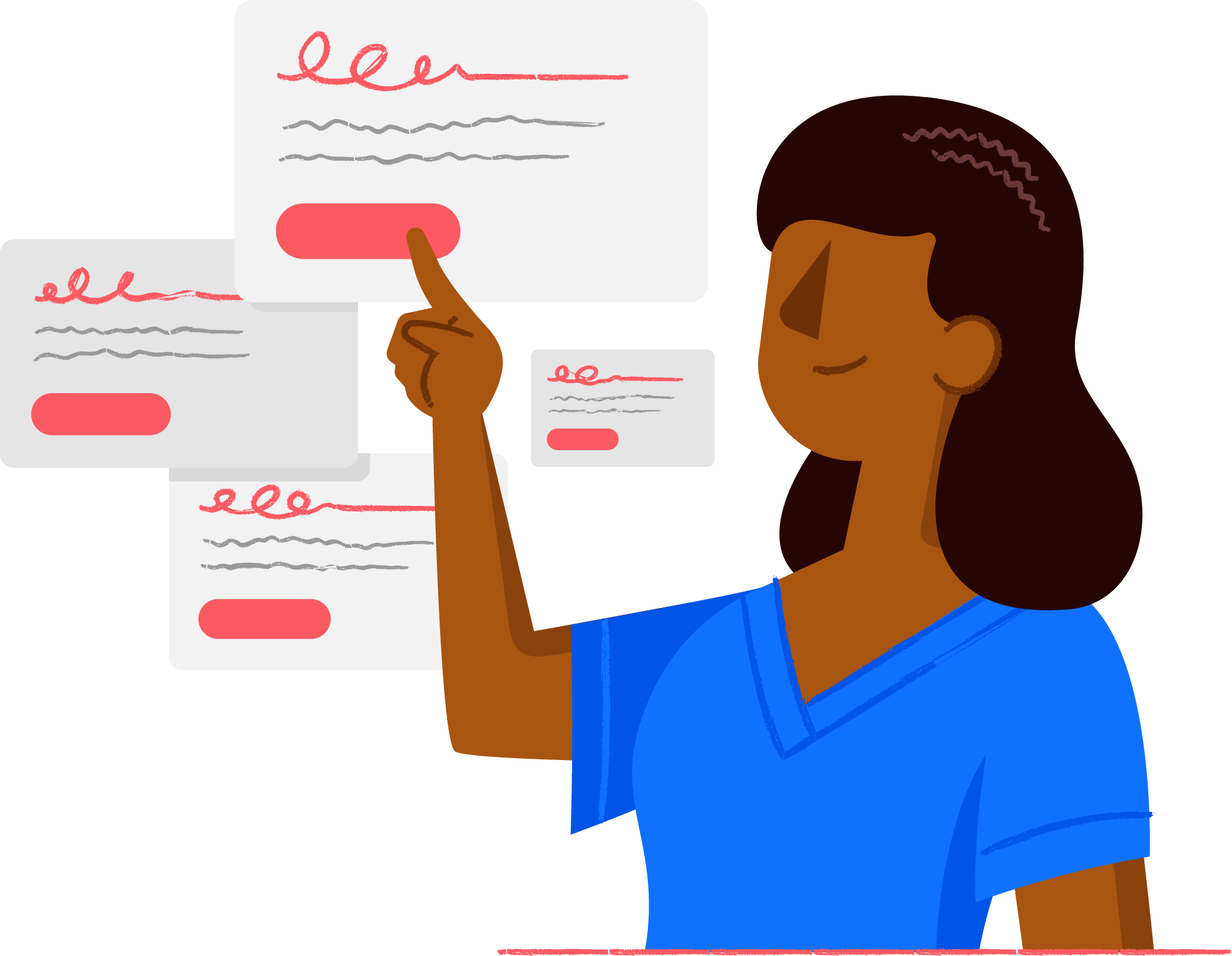 Search Jobs
1000s of jobs for Nurses & Care Professionals. No.1 for UK nursing, care & healthcare jobs.
Search Jobs
Social Care Is Often The Media's Whipping Boy
Most of us, unless we are very fortunate, will end up either caring for someone or being cared for.
Think about that for a moment... If this reads passionately, that is because I have made it my business to campaign for people who live with dementia and the people who care for them.
This rant is from my heart...
This matters because I think there is an army of unappreciated people in our community.
Long before people clapped and banged wooden spoons on pans for them on Thursday nights in Covid-19 2020... there has been a group of us fighting their corner and singing from the rooftops.
These "heroes" didn't just suddenly arrive; they had always been there doing a job that is beyond many of us.
Social care is often the whipping boy in the media, so... I contacted BBC One's Panorama about making a special on the amazing work I see, to redress the balance.
Not about the mistreatment of people but to champion the outstanding work that goes on all over the country by the fully committed, who really care.
It never happened.
I never received a reply.
Perhaps not.
People Who Work In Social Care Are Not Unskilled
"UNSKILLED care workers".
That's the term used everywhere in the media.
Unskilled? Or, if feeling generous, "low-skilled".
Really? NOT the ones I meet...
They are EXPERTS in the people they care for... knowing how to make them smile... celebrating what they can do and not focusing on what they can't... making them belong and feel safe... loved and valued.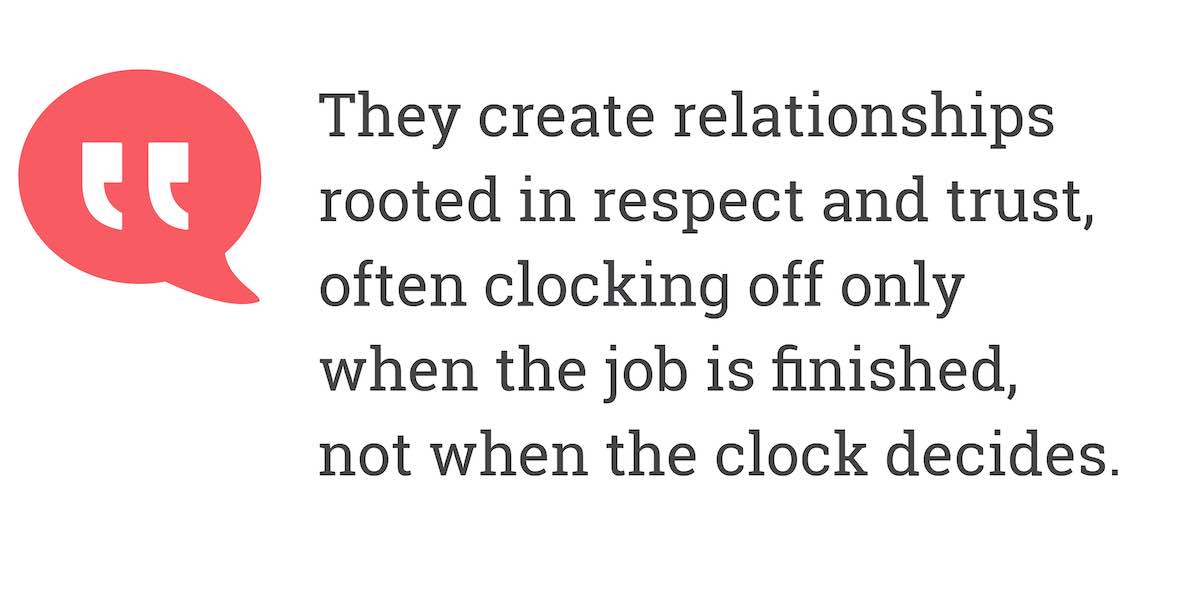 They create relationships rooted in respect and trust, often clocking off only when the job is finished, not when the clock decides.
These are the albumen and shell who protect the yolk.
So skilled are these care workers that people don't have BAD DAYS; they have BAD MOMENTS!
I meet beautiful, inspirational people whose hearts are full, treating people like family.
People who HURT when others hurt and sing with joy on a good day.
People who come in on days to check that Mary is better as she was "out of sorts yesterday".
We need to change how society views and values this group of people.
They are the cement that we rely on when the most vulnerable bricks of society begin to crumble.
They are INVALUABLE, not UNVALUABLE!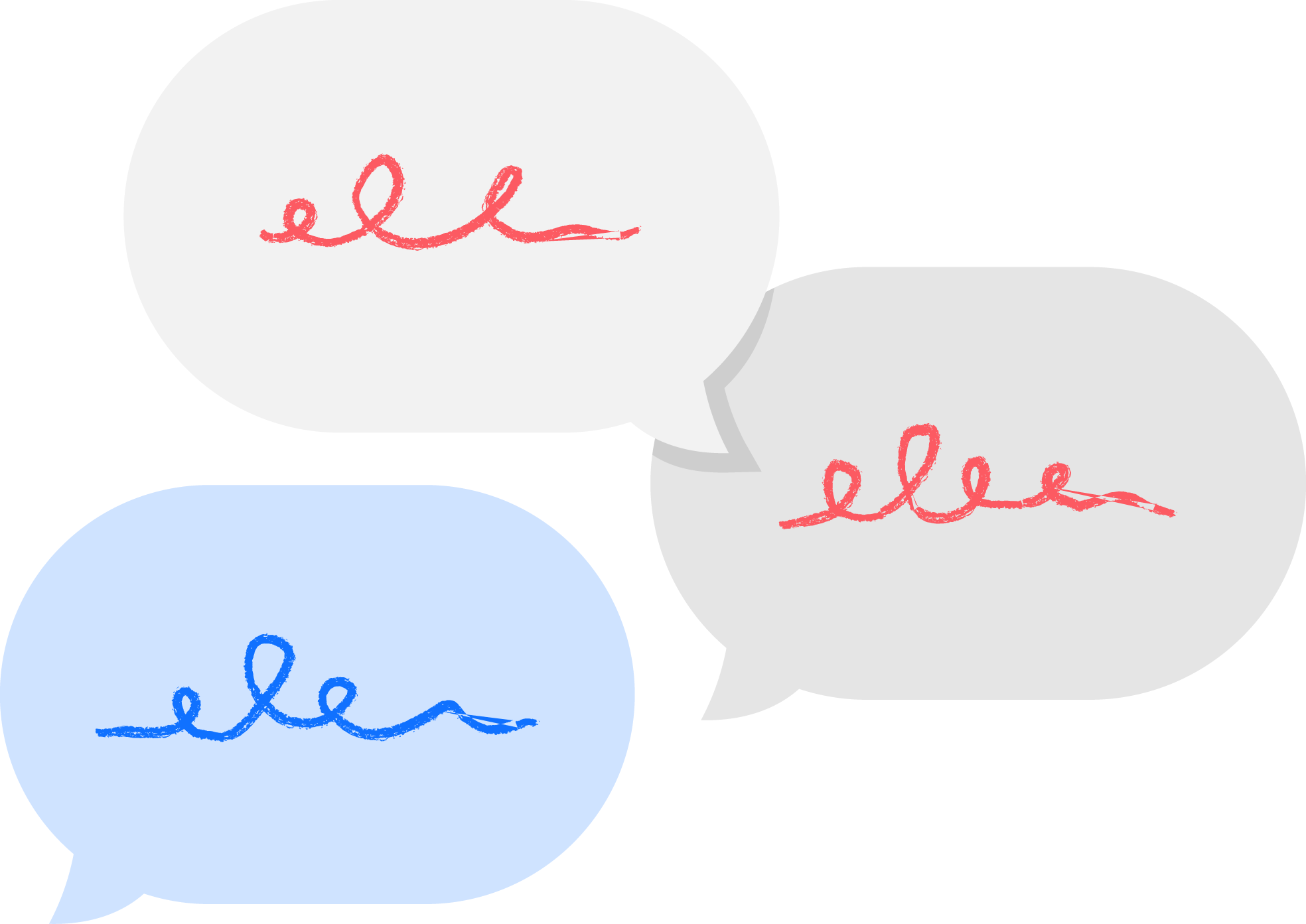 What Do You Think?
Ask questions, comment and like this article below! Share your thoughts, add your opinion in the comments below.
Comment
Care Is A Vocation, Not A Vacation
Dementia care is an infinitely complicated discipline where every person is different.
For this, we need the finest people on our team!
Care is a vocation, not a vacation.
So, are these people "unskilled"? You try it for a day and tell me how UNSKILLED you'd feel.
They are fluent in non-verbal communication.
Cuddles... eye contact... smiles... the gentle touch of a hand... tiny interactions... as they step into people's reality and never judge.Not apathy... not sympathy... but empathy... but, an understanding with words unspoken.
Dignity and respect, often lying alongside laughing uncontrollably together.
Sharing moments, making memories that are often soon forgotten, but in that blink of an eye she was happy.
Few jobs have you walk the full length of human emotion.
Making someone's end of life as important and beautiful as their first day of their life.
Respecting wishes no matter how quirky and bizarre, supporting families on their worst day as they lose the person they have loved the most.
Understanding that some people need you to be a talker, some need a listener and others need you just to be there caring for the person whose name was never at the top of your care plans.
Care Attracts People From All Academic Backgrounds
I have seen young people on placements from school who never left as they loved it so much.
And then there was the 72-year-old woman who worked in the laundry room, decided to retire, but then realised that she and her husband hadn't enough in common to be together day and night, so she bought him a new set of golf clubs and went back to work!
Care attracts people from all academic backgrounds.
One home carer in Mansfield, Leno, was working in care while researching for his second PhD as "it helps me to help others".
He also put together a strong argument to have more men work in care.
"Caring is about heart and everybody has a heart, be they a man or a woman, so why can't guys work in care?" he said.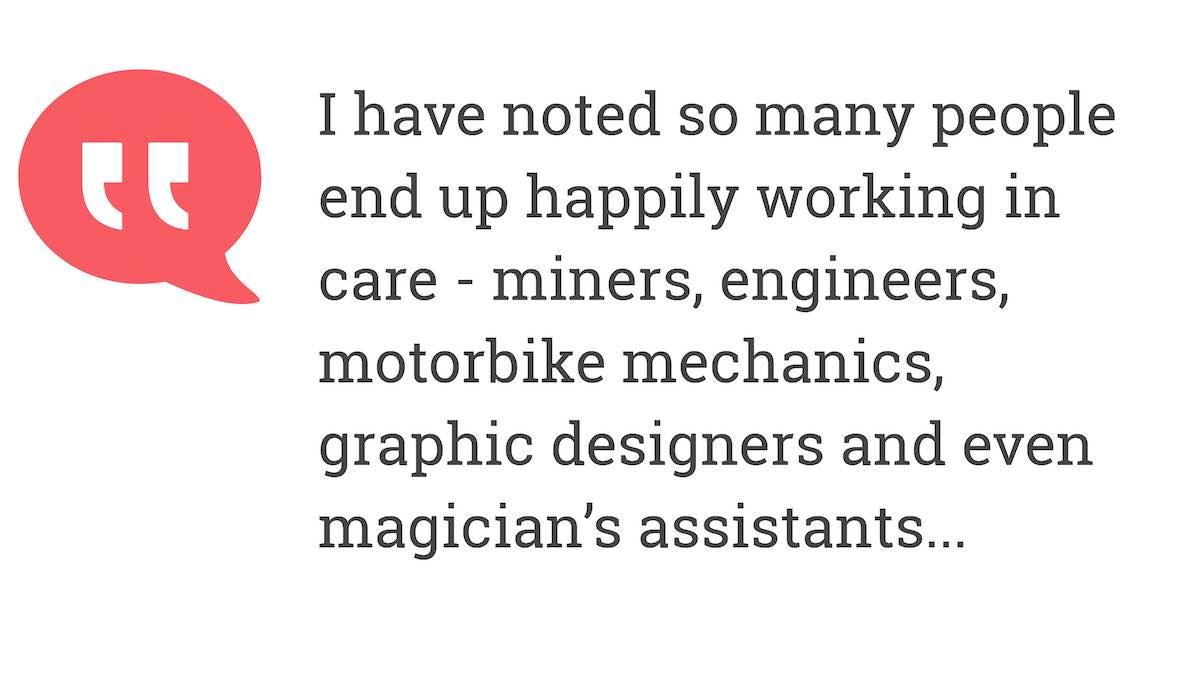 I have noted so many people end up happily working in care - miners, engineers, motorbike mechanics, graphic designers and even magician's assistants... all who wished that care had found them earlier.. as she was getting sick of being cut in two twice nightly.
The people from all corners of the world who have enriched the lives of people in care every single day inspire me - and they do so in a, world where bigots obsess over the colour of a person's skin, their nationality and immigration.
But, last time I looked, we are all from the same place, Earth... and all made of the same bits.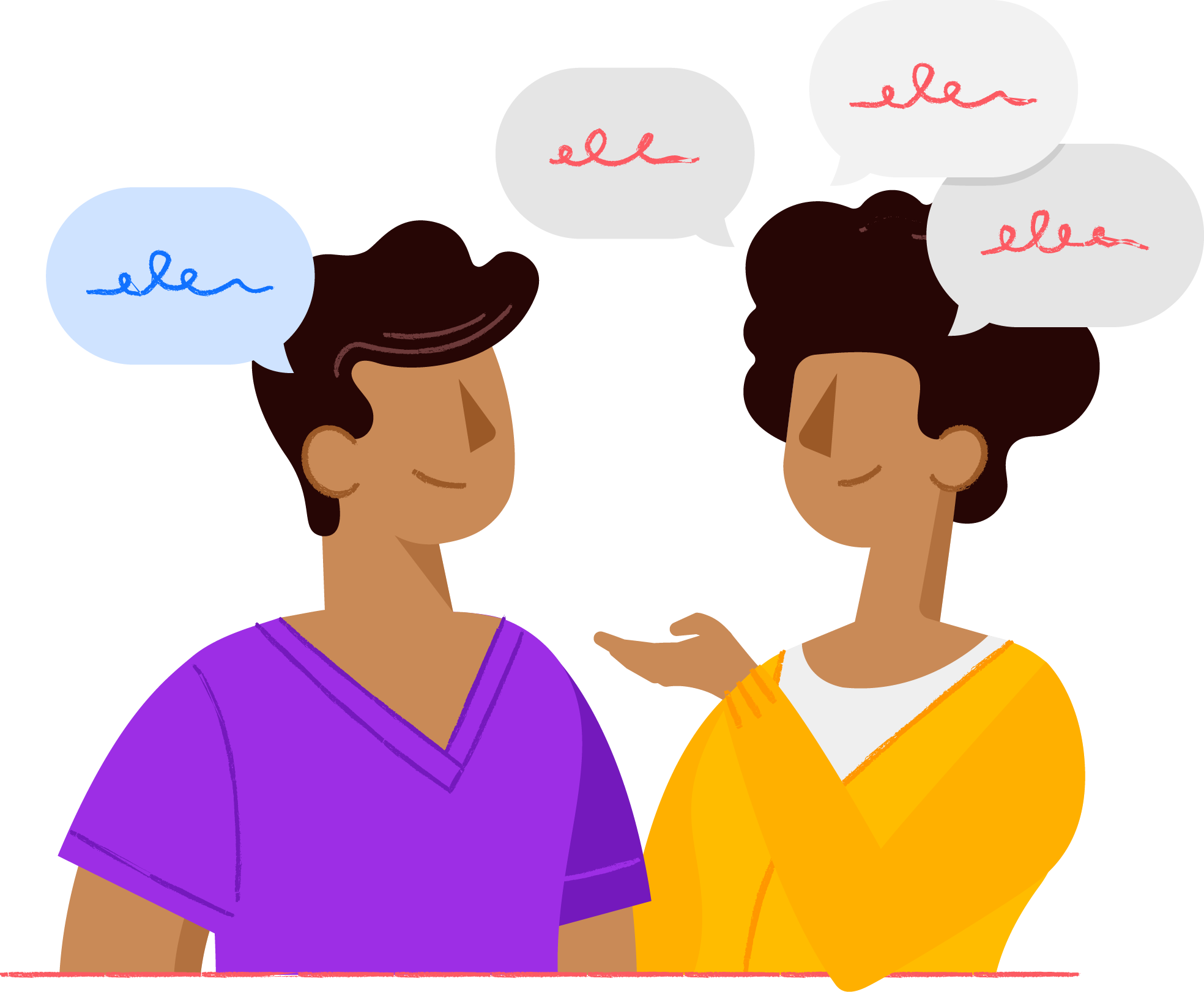 Become A Community Contributor
Share your story to help and inspire others. Write or create a video about your job or your opinions!
Contribute
Kindness Is Their First Language
We should focus more on finding the right people regardless of their postcode.
I have worked with care staff from all over the globe.
On one training day in London, I had 24 nationalities in one room, with so many different ideas between them that would otherwise never reach these shores, all enriching lives.
The xenophobic bigots have it all wrong.
They go on about English being the second language for all of these people from overseas.
I disagree... I believe that English is their THIRD language.
Spanish, Polish, Russian, Filipino, Italian, Romanian, may be their SECOND... KINDNESS is their first.
A universal language understood by everyone.
"A language that the blind can see and the deaf can hear," as Mark Twain said.
The people I have encountered working in dementia care realise how important their job is.
They are not just caring for the name at the top of a care plan in a see-through plastic wallet in a ring binder...
They realise that at some point the person they are caring for may have put their children to bed and told them to go to sleep... then ventured downstairs to bite into a carrot and eat half a mince pie, leaving some crumbs and some glitter on the step with half a glass of sherry ready for the morning.
They are not caring for Miriam or George or Alfie.
They are caring for somebody's Santa Claus.
Would you leave such an important job to somebody unskilled?
Let me know in the comments your thoughts on the perception of Social Care and what I've said about above - let's chat there!
Oh, and please Like this article to let me know you enjoyed it - thank you!