14 October 2020
7 min read
The Surprising Truth About Care Homes
Liam Palmer




Registered Home Manager
Mat Martin
Richard Gill
Aubrey Hollebon
Laura Bosworth
Matt Farrah
Zanja Simon
Paula Hartnack
Carmen Hunter

2724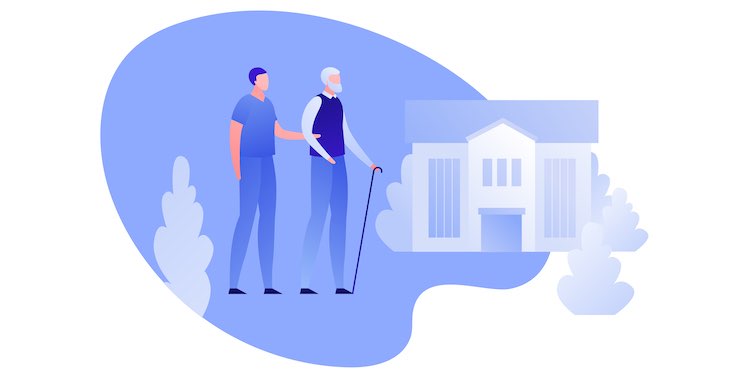 With demand continuing to rise, Home Manager, Liam Palmer, looks at the importance of residential care, the benefit to society as a whole, and clears up some of the myths surrounding care homes.
Topics covered in this article
Why Do People End Up In Care Homes?
The Loving Partner Can No Longer Cope
The Independent Elderly Person Can No Longer Live Alone
Balancing Duty Of Care With An Individual's Autonomy
Moving To Residential Care Is A Big Change
Residential Care Is A Vital Part Of Society
Introduction
The crisis in social care continues to top headlines.
Demand rises apace.
And yet care homes are closing due to lack of local authority funding across the UK.
We look at the vital value residential care brings us all, and some of the misconceptions about care homes.
Why Do People End Up In Care Homes?
The real circumstances why older people move to a care home is most commonly due to the family unit no longer coping.
The average age of people coming to care homes is now in their late eighties.
These family members need more than a cup of tea and a meal, they need full time assistance.
In most cases the complexities of managing so many medications, having to assist with feeding, bathing, toileting or use of pads due to urinary or faecal incontinence, risk of falls and often dementia has exhausted the family unit to the point they can't cope at all.
Often the partner is too weak to lift the other partner being a similar age, the care for them is becoming impossible putting them at risk of premature death themselves.
The Loving Partner Can No Longer Cope
After fifty years of promising to love and care, they are torn.
They can't do it.
The care home saves them, saves their family, their sanity.
Restores the family with the son and daughter able to be son and daughter again with the exhausting work of washing, cooking, shopping, dealing with medication, managing it, dealing with all the medical professionals basic needs looked after.
The care home is a safe haven for them, makes life make sense again.
Most relatives LOVE the care home for these reasons.
This is what we do.
The Independent Elderly Person Can No Longer Live Alone
The next most common cause is independent older people with no family to support.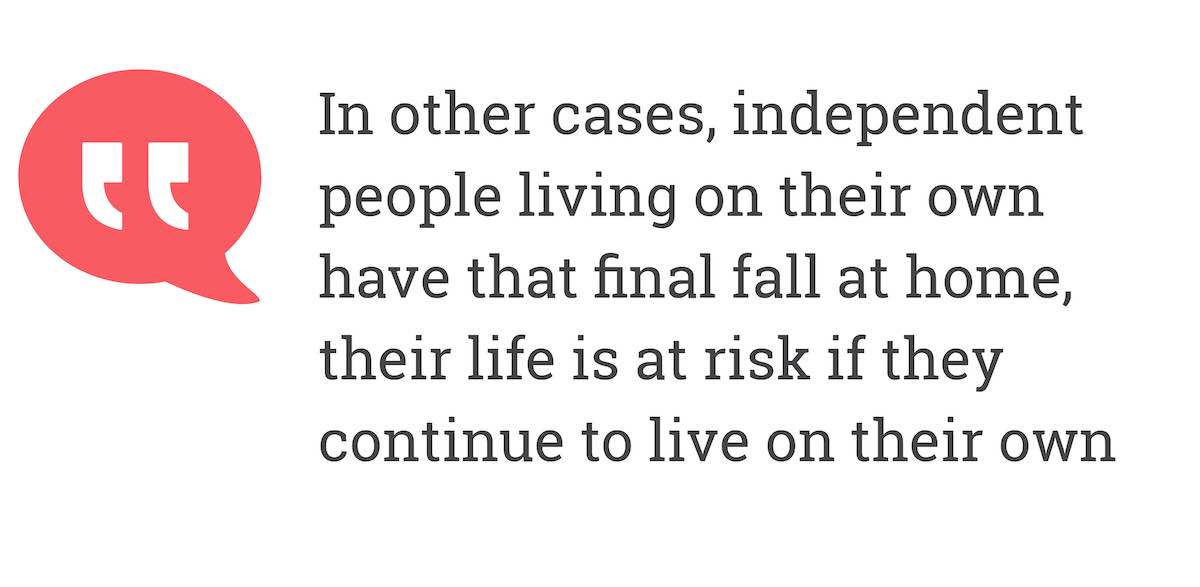 In other cases, independent people living on their own have that final fall at home, their life is at risk if they continue to live on their own, they go to hospital, the discharge team gets advice and regrettably decides their life is at risk if they return home, a care home is sought for them.
They're not going home.
Balancing Duty Of Care With An Individual's Autonomy
This is a real grey area for me – the state effectively steps in and says someone can't go home.
It sounds mean but if you consider that the hospital is responsible to ensure they are ok, what if they discharge them to go home and they die in 24 hours?
Is that ok with you?
Do you start to see how things are not as black and white as they look?
How would you feel if your mum or dad was discharged home and died within 24 hours and there were warning signs that they might not be able to cope.
Do you see now?
---------- ---------- ---------- ---------- ----------
What do YOU think?
Let me know your thoughts in the Comments & click Like!
---------- ---------- ---------- ---------- ----------
It is not as straightforward as it looks is it?
You can see the tension between duty of care, who is responsible and which right should be prioritised – the hospitals duty of care or the autonomy and independence of the individual or risk to life?
Home Care Is No Longer Enough
The next most common cause is that the existing support (a contracted package of care visits called a "care package"- is no longer enough.
This is where a professional carer/s from a domiciliary care company will pop in to your house to see your loved and help with essential tasks – usually with food, continence, medication, personal care and bathing/toileting etc.
Sometimes these visits become not enough and residential care is needed or the number of visits required become impractical.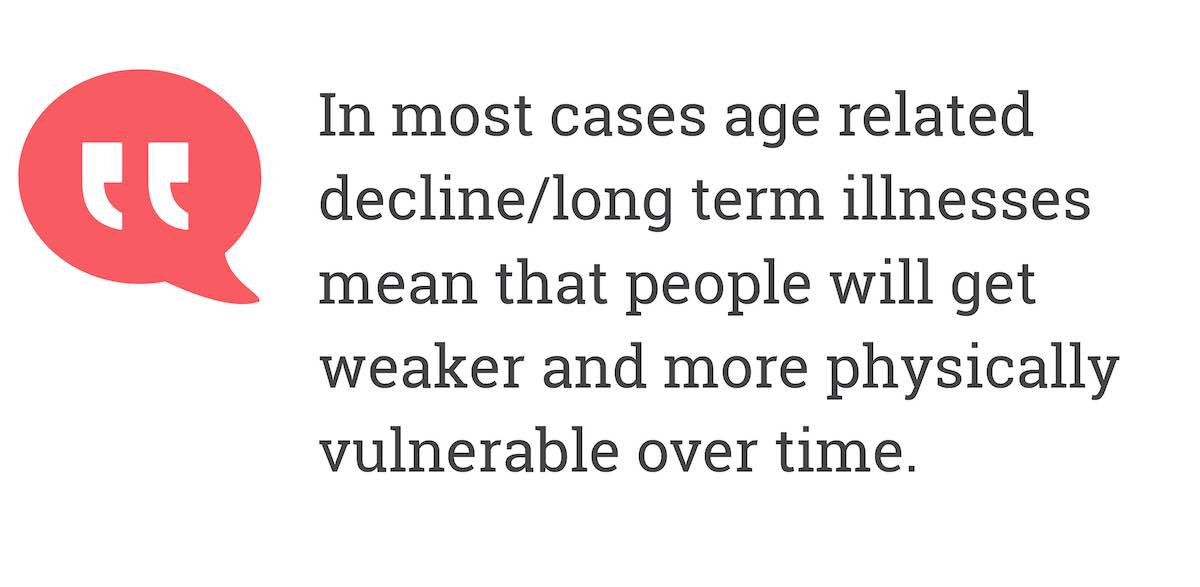 In most cases age related decline/long term illnesses mean that people will get weaker and more physically vulnerable over time.
At a certain point, somebody living on their own may be at risk – if they fall, they may not be found for 4 hours for example.
They may not remember they have a pendant to press.
So, this type of care is excellent but sometimes has its limits.
In particular, when people on their own have dementia they become unsafe to live on their own – whether it be shopping or eating or medication, they may not have the ability to remember, the risk of neglect or harm becomes too high to continue to live independently.
Unexpected Life Event
The last and very common cause is a sudden unexpected life event.
This may be a stroke, heart attack, serious fall – hip breaking is very common after a fall – especially with women whose bones become weaker due to hormonal changes in later life.
The need for a residential care is then an emergency – the individual needs moving on from their hospital bed.
For example, someone who has a broken hip will need to be nursed in bed but needn't be in hospital.
This is where the long-term residential care provision of care homes comes into play – it is an invaluable extension of hospital services to provide good medical care outside a hospital with home comforts and some more social interaction.
Moving To Residential Care Is A Big Change
In nearly all cases, relatives support their loved ones in care homes and are broken hearted about how ill they are and how they can't help more and because they are not looking after them and living separately.
---------- ---------- ---------- ---------- ----------
What do YOU think?
Let me know your thoughts in the Comments & click Like!
---------- ---------- ---------- ---------- ----------
Often it is traumatic and upsetting to visit but they do so out of love and commitment.
Some visit, some are too busy, some don't care that much.
It is an exact reflection of all strata of society in one place and that's as it should be.
Longevity Has To Be Addressed
What few people understand is that the wonderful advances in medical science over the last 30 years mean people live much longer and their care needs can become significant over a long period.
Whilst the romantic ideals of having your mum or dad live at home for the middle-aged child does work in some cases, the length of this time and the needs are often overwhelming at a certain point.
It is no one's fault that residential care is needed, it is partly a society's response to this extra longevity.
Residential Care Is A Vital Part Of Society
Let's drop the blame – in nearly all cases it is not a heartless family, it is driven by a medical need to keep that person safe.
Let's drop the anti-care home rhetoric in the media – it is a hard job to run a care home, fraught with risk, like any healthcare facility, working there makes you aware of the breadth of humanity and the human condition, the beauty and tragedy of life, love and loss.
It is not always pleasant but it is an honour and privilege to share the lives of a group of older people in the latter part of their lives.
My team and I try really hard to ensure they have the best life experience possible, best care possible and feel loved and valued.
It is something that motivates me to give my best every day.
Liam Palmer is a Home Manager and Care Home Quality Expert. His recently published book on how to become a Registered Care Home Manager is available here.
Let me know in the comments your thoughts on care homes and of the points I've made above - let's chat there!
Oh, and please Like this article to let me know you enjoyed it - thank you!