Claire Carmichael


Adult Nurse - General Practice Nurse
Former Care Home Nurse, Claire Carmichael, explains why Care Work is so rewarding and how to get started on your career in Care. Experience is NOT essential.
Topics covered in this article
0.40 Why I Loved Working In A Care Home
1.08 Experience Is NOT Essential
2.14 My First Big Tip Is To Just Go For It
3.21 Make Sure You Research The Place That You're Applying To
4.25 Many Employers Will Help You Develop
5.47 Some Extra Things That You Might Want To Consider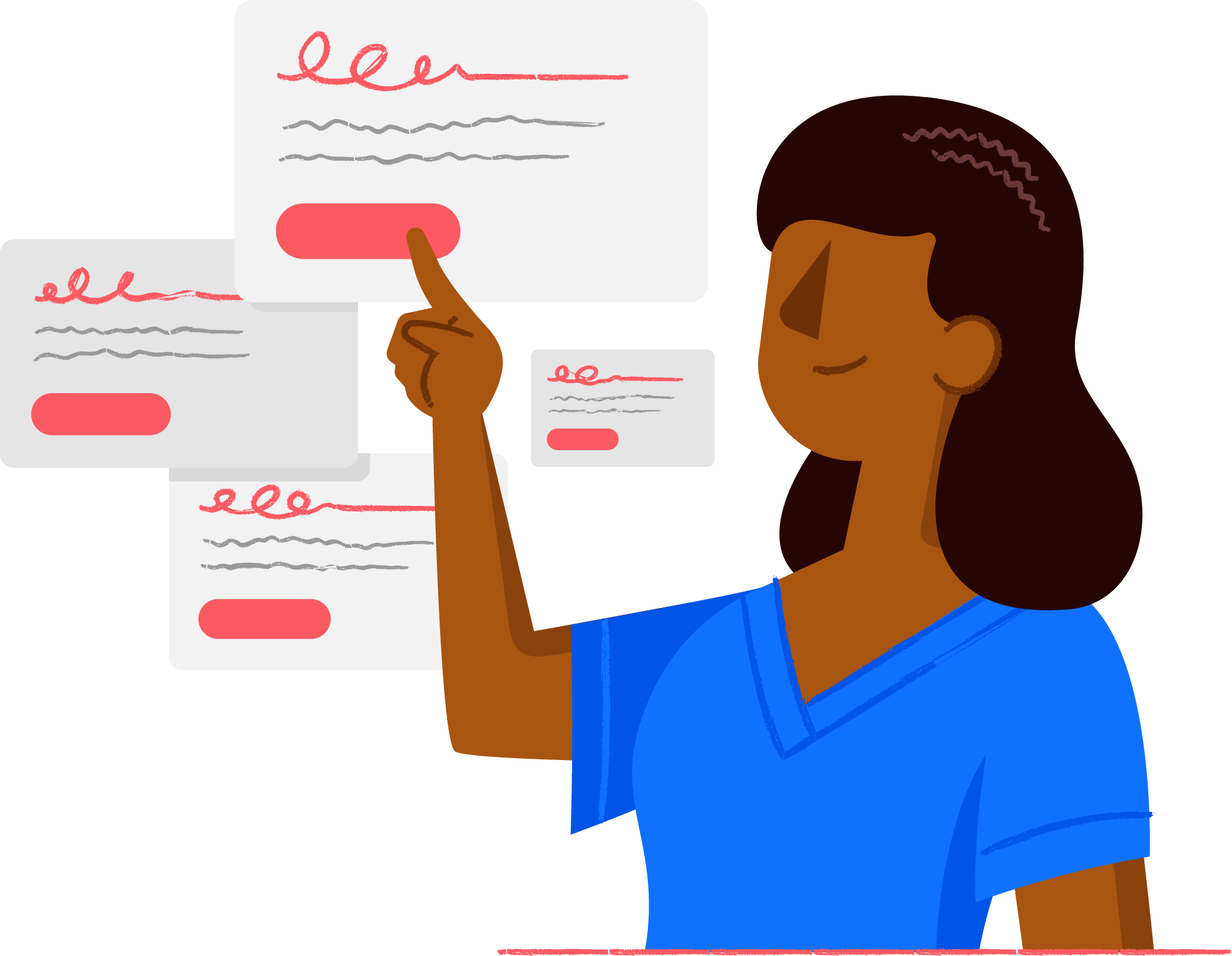 Search Jobs
1000s of jobs for Nurses & Care Professionals. No.1 for UK nursing, care & healthcare jobs.
Search Jobs
0.06 Introduction
Hi everyone, and welcome back to another blog.
My name is Claire Carmichael and I am a General Practice Nurse.
Now, even though I'm a GP nurse, I spent five years or five and a bit years working as a Care Assistant in a residential home for the elderly.
I also worked in a nursing home.
There was a couple of different ones that I worked at.
One had nurses and one didn't have nurses.
So today's blog is all about how to give up your current job, whatever you're doing right now, if it's not healthcare-related, not nursing-related, but how to give it up, change your career and get into care home working and become a Care Assistant.
0.40 Why I Loved Working In A Care Home
First things, first, I loved working in a care home.
It was amazing.
It was some of my best years.
It's where I've built my foundation of nursing on.
It's where I learned all about the six years of nursing.
It's how I developed myself and become more confident in the role.
It's just fantastic.
It's such an amazing area.
I really think that everyone should experience working in a care home.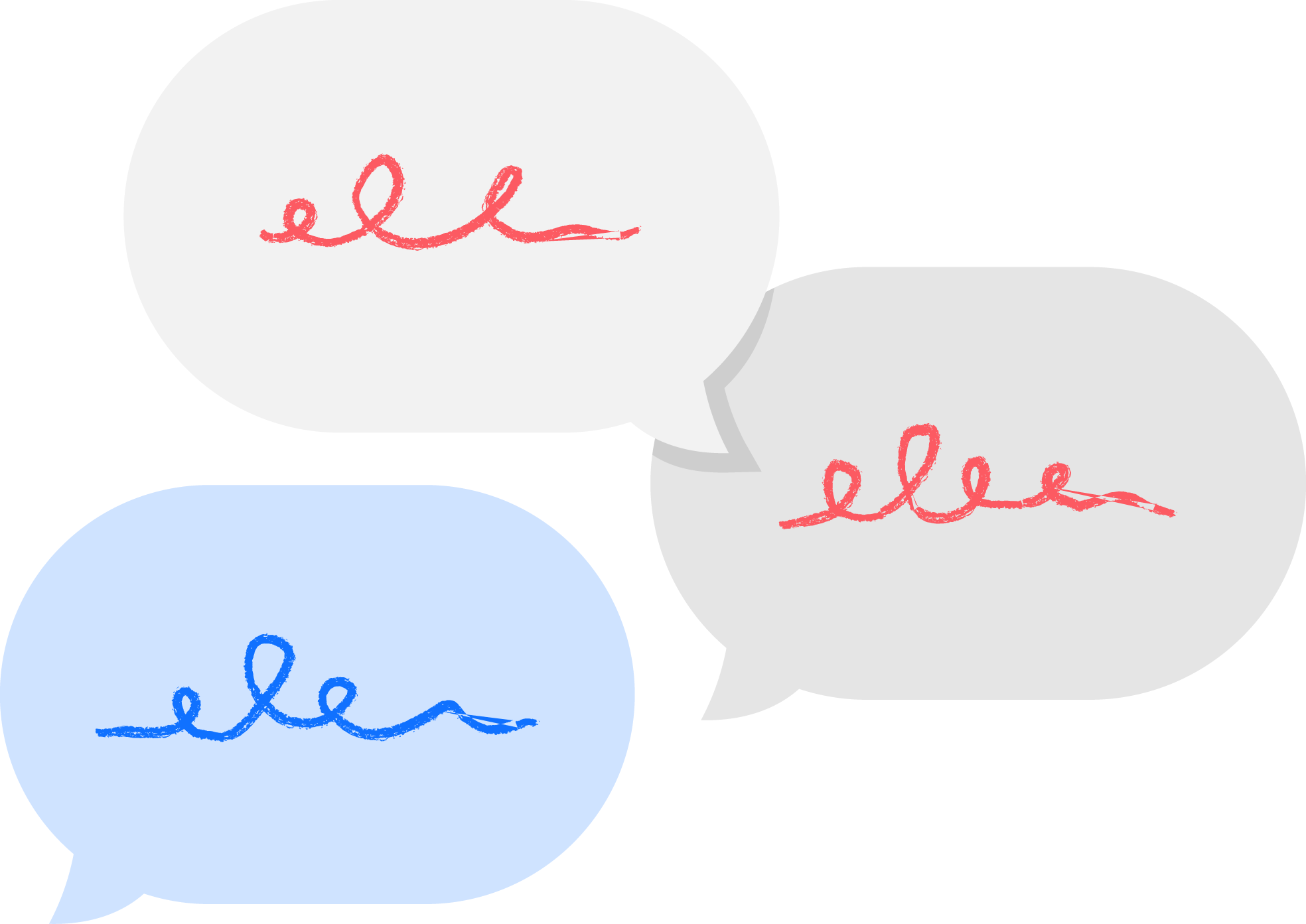 What Do You Think?
Ask questions, comment and like this article below! Share your thoughts, add your opinion in the comments below.
Comment
1.08 Experience Is NOT Essential
So you don't have to have experience to become a Care Assistant in a care home.
Start thinking about your transferable skills.
So whatever you're working at the minute, what sort of communication skills have you got?
What sort of team working skills you've got?
And could those skills transfer over to a care home?
How would you input those types of skills into the care home?
It's all about that. It's about thinking, okay, what do you do now that you can transfer into a care home?
Or you might have just left school maybe and looking at working in a care home.
So you want to think about again, communication.
How did you communicate at school with friends, with the lecturers, your teachers, you had muster or whatever?
How was your timekeeping and your time management, your organizational skills?
These little things you can easily transfer as a care home.
Also, any experience that you have.
So if you have your Nan or grandad and you've looked after those people or the neighbours or anything like that.
Any sort of caring roles that you've done voluntary in your life, add that as well.
2.14 My First Big Tip Is To Just Go For It
Literally, just go for it.
Stop what you're doing.
Get online, have a look for care home jobs or vacancies in your area.
My second tip is, get to know the role.
So if you're on social media, you must be if you're watching this video, get out there, speak to people that actually have done the job and see what the role involves because you want to be well prepared before going into something like a care home to work.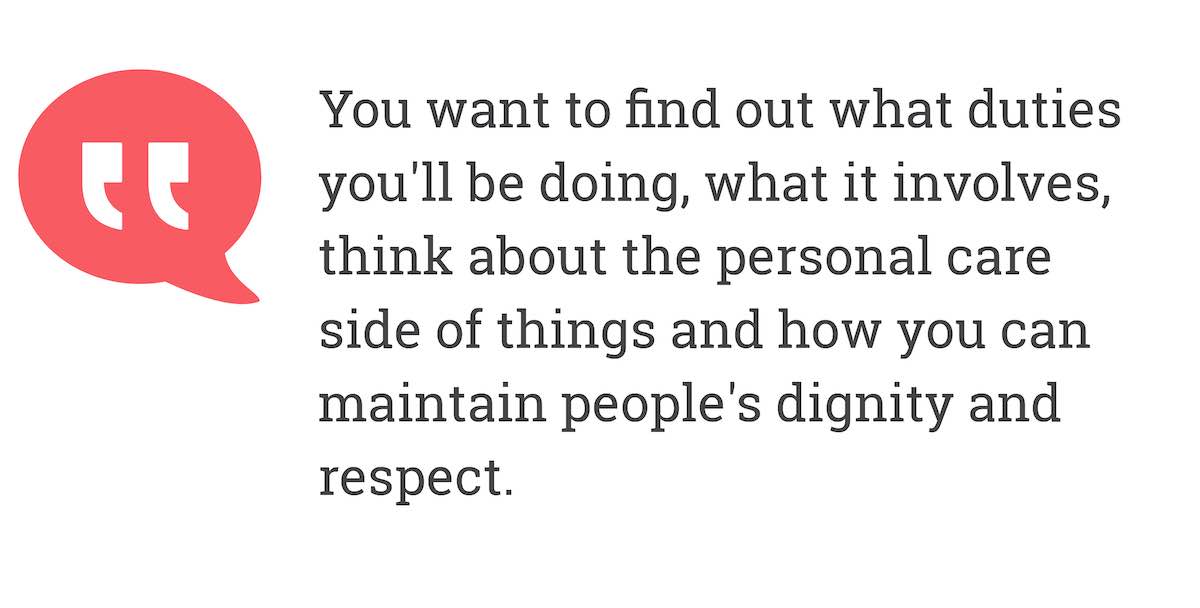 You want to find out what duties you'll be doing, what it involves, think about the personal care side of things and how you can maintain people's dignity and respect.
All these sort of things you have to think about when you're applying for a care home, just make sure you know the role so that when you apply for it, you can talk about it in a support and information.
Or if you get an interview, you can talk about it in the interview or what you expect the role to be like.
It's just really good if you do your research beforehand, because that will make a whole lot of difference when you come to your interview.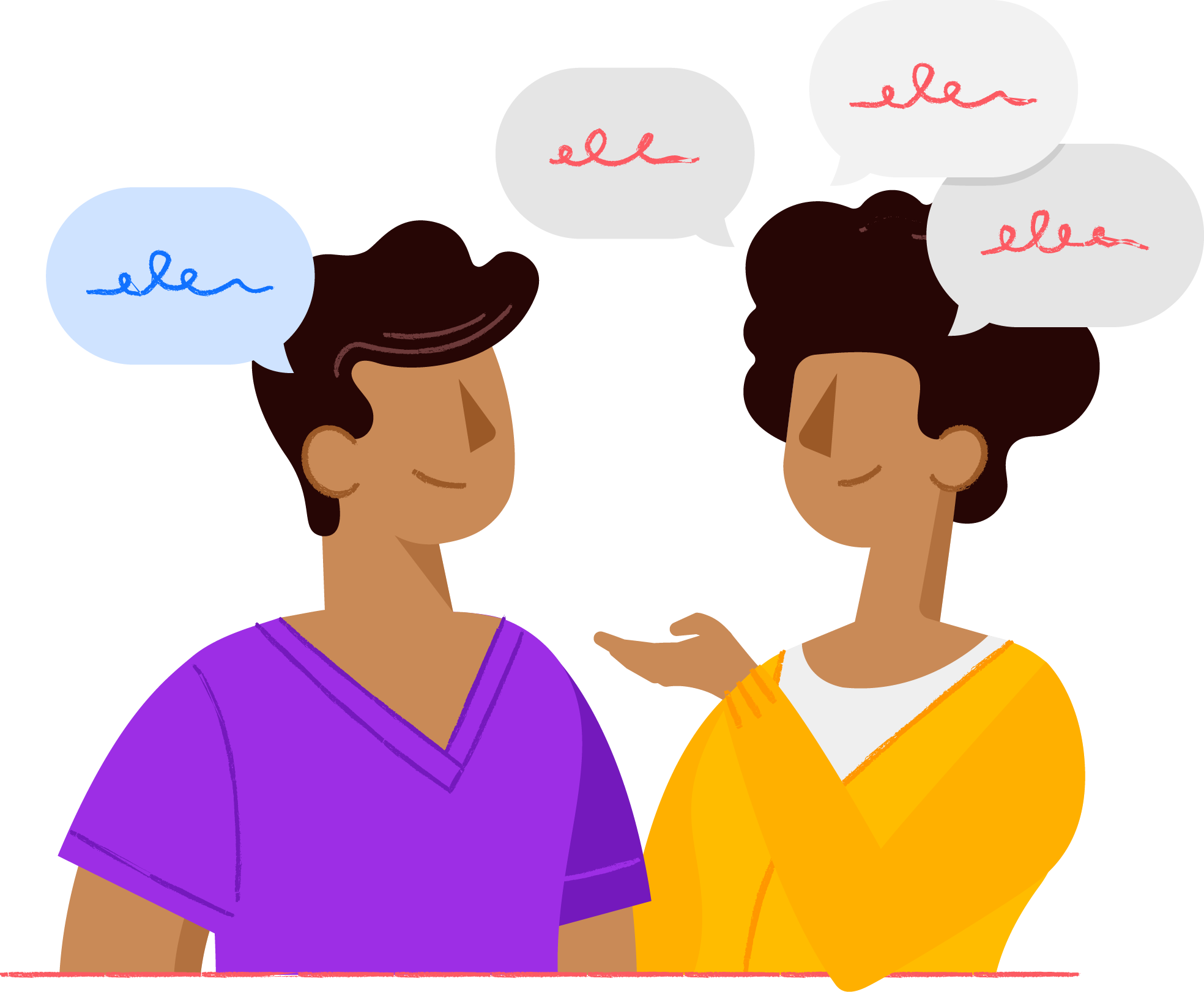 Become A Community Contributor
Share your story to help and inspire others. Write or create a video about your job or your opinions!
Contribute
3.21 Make Sure You Research The Place That You're Applying To
So have a look online.
Like I said, have a look at their website.
What are their visions?
What are their values?
What do they pride themselves on?
What do you like about the place?
Just something that really stands out for you.
Pick out these little things so that when they ask you in the interview, why do you want to apply here? You can just reel off a load of really good facts that you've found on their website and stuff.
Have a look at their CQC rating as well.
Make sure that rating's quite good.
And just get to know your care homes.
You could also ring the local care homes to you and ask if you can go in and just have an informal look around and chat with people, and that'll just give you a feel of what the care home's like, what the staff are like, what the residents are like that are living there.
It'll just be an amazing idea I think, to do that because that's going to make all the difference as well, whether you want to work there or not.
And it also makes you look good.
You look keen, you look interested in somebody.
So that's a really, really good thing to do as well.
4.25 Many Employers Will Help You Develop
You don't really need any official qualifications to become a Care Assistant because most places will train you up.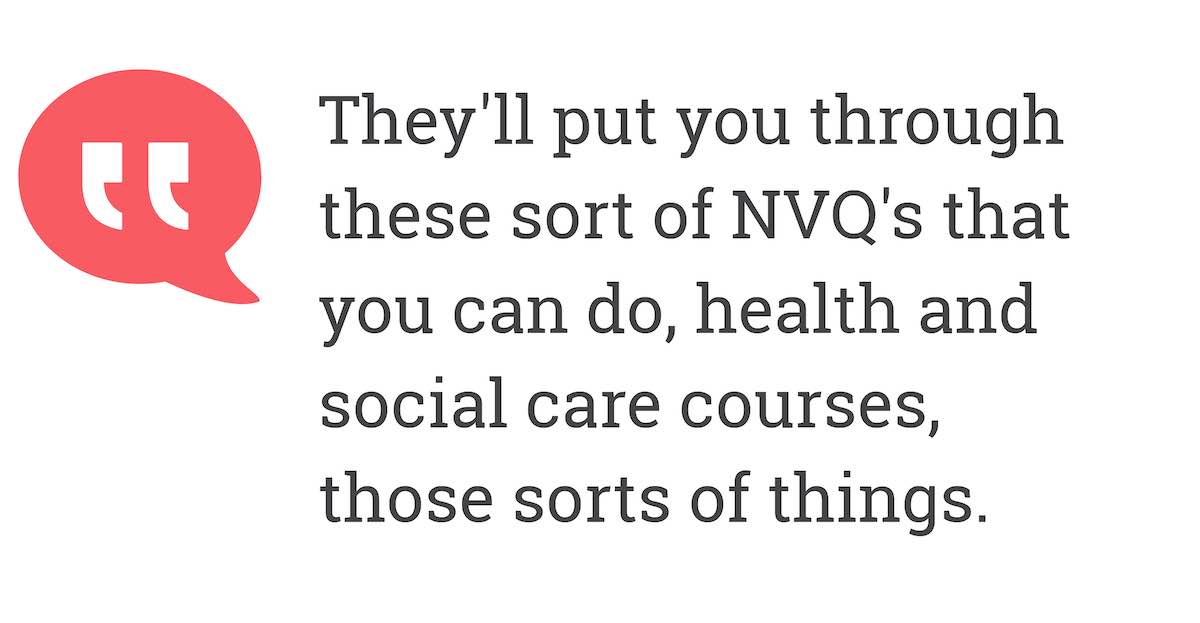 They'll put you through these sort of NVQ's that you can do, health and social care courses, those sorts of things.
So most care homes will do that for you.
And they'll completely fully train you to do everything.
When I applied for my very first care home, this is what they did with me.
I didn't have very good GCSE.
I then went on and I got my English and Maths again.
I went on to do my NVQ level two and then level three.
The funding was there to give me the training.
So that was really, really good.
Just think about courses as well.
Have a look online.
You can have a look at Open University as well.
Maybe they've got some things that you could do.
Have a look at Learn Direct.
I don't know if they're still running anymore.
Are Learn Direct still running?
I'm going to look after.
Have a look at your local colleges as well because colleges tend to do a lot of the courses as well.
And also that will look good in your interview.
So if you'll go in and they say, where do you see yourself in five years?
You can say, Oh, well actually I've looked into this course and this course, and I'm really interested in doing this career path that'll just look much better as well in you interview, I think if you're well prepared in that aspect as well.
5.47 Some Extra Things That You Might Want To Consider
Some extra things that you might want to look around as well is things like look up dementia.
Have a look around frailty, loneliness in the elderly.
Have a look as well at different longterm conditions or cardiovascular disease, diabetes, asthma and COPD.
Also safeguarding.
Safeguarding is a massive one because as you've seen maybe in the news and things that abuse does happen out there and you want to be stopping that.
So if you see anything like that going on, make sure you shut that down and report it and you can do that completely anonymously.
So have a look who your local safeguarding teams are, and just know a bit more about types of safeguarding.
There's a whole safeguarding website actually to have a look at and it breaks it all down.
I'm going to put all of the links below.
So any links I can think of, I'm going to put below for you and hopefully they'll help you.
Just make yourself aware of these sort of things when you're going into care homes.
So just to summarize, if you want to change your career and get into care, literally just do it.
Have a look round, find your local care homes, inquire, make sure you know your stuff, do your research and yeah, just apply.
A huge, huge, good luck to you.
You've got this.
Let me know in the comments your thoughts on going into Care Work and the advice I've given - let's chat there!
Oh, and please Like this article to let me know you enjoyed it - thank you!