13 November 2020
10 min read
How Do We Improve The Perception Of Social Care?
The NHS tends to dominate the headlines, with social care very much lower down the pecking order.
Can the perception of social care be improved? And what would need to happen for health care and social care to become the mutually supportive sectors they ideally should be?
A study into a potential national recruitment campaign for adult social care in 2017/18 highlighted some of the challenges faced by the social care sector when recruiting.
These included a perception of low pay alongside poor terms and conditions of employment, the lack of sufficient numbers of candidates applying for vacancies, and a poor public opinion of adult social care.
Would you say that the study went far enough in identifying issues around social care staffing, particularly given the ongoing shortages of staff in some areas? Comment 💬 Like ❤️ Reply 🙂 below.
On the back of this study, it was determined that an effective recruitment campaign would need to include measures raising awareness of the sector so that the public understood the importance of the adult social care workforce, and improving the image of adult social care through addressing negative perceptions.
There was strong demand for such a campaign too, with 94% of the study's respondents agreeing that such action was required.
The government's 'Every Day Is Different' campaign, which began in 2019, was intended help fill the 110,000 vacancies in the adult social care sector.
Given that shortages in social care are still being talked about today, do you think it's fair to suggest the campaign has not been particularly successful?
Also in 2018, in a survey carried out by a group of social care organisations, it was estimated that by 2037, there would be a shortage of up to 1.1 million care workers.
In their letter, which they sent to the then Health and Social Care Secretary Jeremy Hunt, they highlighted that their research had shown that 67% of those asked thought a career in social care is in undervalued by society, and 77% said they would be unlikely to consider beginning a career in social care.
Do you think that if the perception of social care, along with the working conditions were improved, staff retention levels would increase?
---------- ---------- ---------- ---------- ----------
What do YOU think?
Let me know your thoughts in the Comments & click Like!
---------- ---------- ---------- ---------- ----------
In a fresh effort to help fill the recruitment gap, the current Health and Social Care Secretary Matt Hancock and Care Minister Helen Whately launched a new recruitment campaign in April 2020.
Titled 'Care for Others. Make a Difference'; it aims to encourage the right people with the right values and attributes to consider a paid career in adult social care work.
If the previous campaign was not wholly successful, do you think that a new campaign along much the same line stands any better chance?
The coronavirus pandemic certainly hasn't helped matters. An Ipsos MORI poll, conducted between 1st and 10th May 2020, found that 41% thought the standard of social care had got worse over the preceding 12 months, with only 10% thinking it had improved over the same period.
It also found that views of standards were more pessimistic around social care than around the NHS.
How much of this is down to the increased promotion of the NHS during coronavirus ahead of social care? Do you think that Clap for Carers became too NHS-focused?
More recently, Andrea Sutcliffe, Chief Executive of the NMC told a virtual conference that the COVID-19 crisis has changed the public perception of social care nursing and may help improve recruitment to these settings.
Ms Sutcliffe, who was formerly the chief inspector of adult social care at the Care Quality Commission, noted that social care nursing too often missed out on the "support and public acknowledgement it deserves".
To that end, the Care Minister, Helen Whately announced recently that the Department of Health and Social Care is searching for someone to become the very first Chief Nurse for Social Care.
Do you think it would be beneficial to have someone who has experience in both the healthcare and social care spheres? And should this be the model going forward?
---------- ---------- ---------- ---------- ----------
What do YOU think?
Let me know your thoughts in the Comments & click Like!
---------- ---------- ---------- ---------- ----------
There is also an argument that the perceptions of social care were badly affected by the prevalence of COVID related deaths in care homes in the early days of the pandemic.
Do you think the care providers were unfairly characterised in the media at the time?
It is understood that the NHS has no reliable figures for the extent of hospital-acquired Covid-19, but a conference between several NHS Trusts put the rate of hospital-acquired Covid-19 infections between 10% to 20% of patients.
On the 11th of May, Boris Johnson, in a reply to a question in the House of Commons, referred to 'these twin epidemics' of hospital and care home COVID infection. The focus, especially in the media had been on the rates on infection in care homes, as a result of the discharging on un-tested patients into care homes in the early stages of the pandemic.
Is the damage to the perception of quality care in social care environments already done, or do you think that the as the pandemic progresses, both health and social care will be under equivalent pressures in terms of quality of care and reputation?
By mid-June this year there had been nearly 30,000 excess deaths in care homes in England and Wales.
Restrictions on visitors to care homes understandably leads to a fall in the perceived level of care. Combined with reduced staff availability due to illness and/or the need to isolate, this has put care homes and care providers under even greater pressure to try and maintain not only their care standards, but also the public's perception of those standards.
Do you think these restrictions applied with too little flexibility, and if so, will that negatively impact people's perception of the care sector in general now and in the future?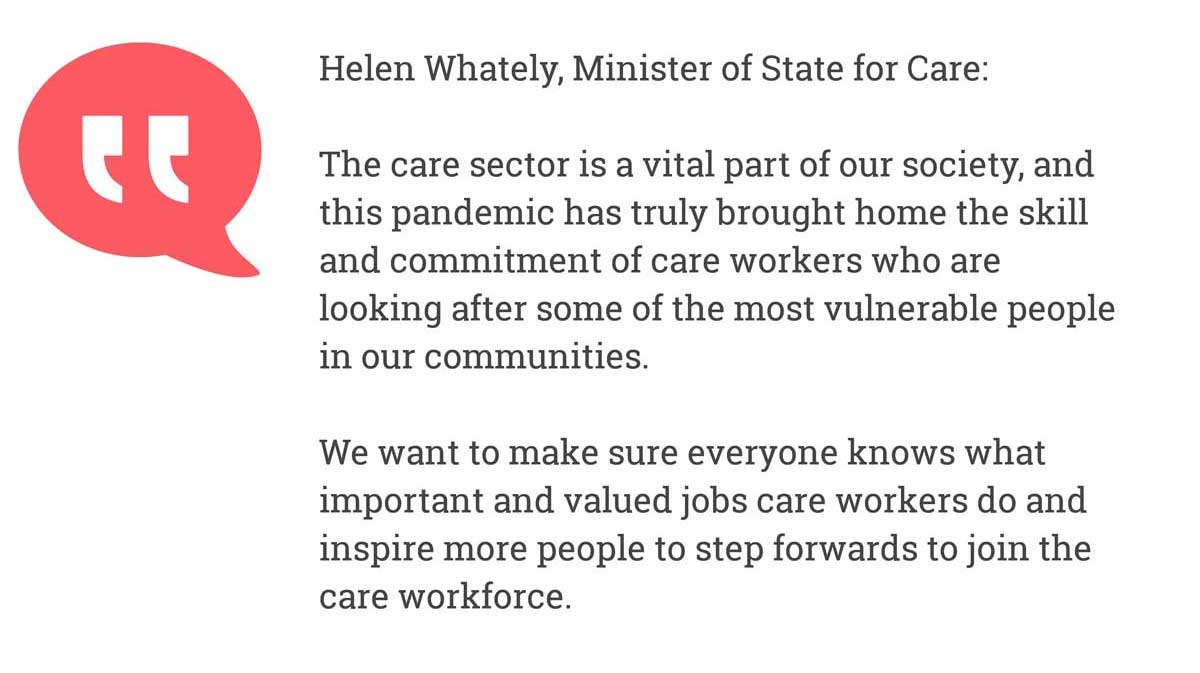 There have also been more than 3,500 excess deaths among people receiving domiciliary care, although fewer of these are attributed directly to Covid-19.
Covid-19 will also have affected the level of 'unmet need' for social care. Just under half of directors of adult social services said they believe there has been an increase in unmet need since March 2020.
Given the pre-COVID shortage of staff in some care settings, do you think this 'unmet need' can be laid just at the feet of the pandemic, or do previous policy shortcomings have to be taken into account equally?
A lighter and more visual representation of the disparity between health and social care can be seen in the enamel badges – the NHS badge has been conspicuously adorning lapels of Health Secretaries for years, but an equivalent 'Care' badge has only just become available.
Is this Care badge merely a sop to a sector that is perceived as neglected, and is the government supporting the initiative to simply garner popularity?
Let us know what you think in the comments. Please Like the article if you found it interesting.
Thanks.