Ever wondered what a care assistant job is really like?
Karen Ashberry describes this crucial and multifaceted social care role.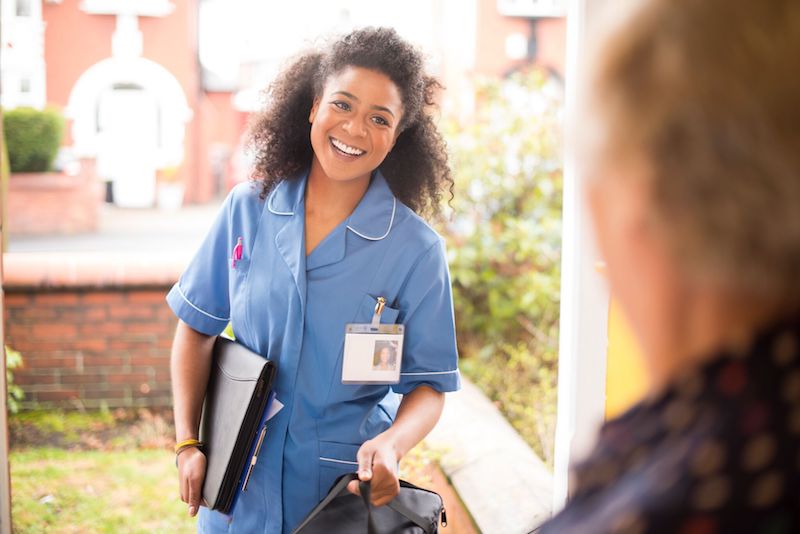 Can you tell us about your job as a relief assistant and what your responsibilities were?
My role as a Relief Assistant was to work on-call covering any role and hours within the care home.
I would cover from 1 hour per week to as many as 13 hours daily over 7 days, working days and nights within the same week.This was before regulations were introduced!
I had to ensure I adhered to the EPH (Elderly Persons Home) duties and routines, Social Services policy and procedures, and Local Authority and National Government policy and procedures.
This has since changed.
These are some of my duties:
• Laundry:
Ensuring all laundry was washed, ironed, and repaired
Tidied into client's bedroom
Laundry Room cleansed
• Damaged machinery reported to management for maintenance to repair
• Kitchen Domestic Assist the cook
• Cover light preparation of meals
• Lay tables
• Serve food
• Wash up all the crockery after meals
• Fill condiments sets
• Report any repairs
• Cook And Asst Cook Following the daily/weekly menu of home cooked meals
• Meals for individuals needs
• Preparing monthly menus
• Stock checking
• Ordering
• Date labelling
• Serving food
• Work as a team within the kitchenCare/Night care
• Assist and encourage a client to be as independent as possible within their own abilities and needs
• Monitor their health and wellbeing
• Stimulate them with range of different activities
• Keep their room clean
• Routine activities
• Admissions and discharges
• Inventories
• Updating care plans
• Repairing clients clothing
• Shopping with or for a client
• Night care
• Cleaning of the communal areas
• Regular checks on all throughout the night
• If someone is ill/had an accident or has died (assess area, act, and record every little detail)
• Domestic Ensure all areas of the care home were kept clean and odourless
• Strip and change beds
• Toilets and bathrooms cleaned and restocked
• Report any maintenance/repair
• Carpet washing/steaming
• The care home team has daily, weekly and monthly routines that each role perform, which were all monitored/amended by the Officers.
I would have supervision to develop and improve my knowledge, training needs and address any issues.
How did your Care Assistant job in a nursing home differ from your first job in social care?
For the nursing home role, I had to be assessed as to whether I had enough knowledge and training to become a health assistant to the nurses or remain a care assistant.
I found that the clients were institutionalised and didn't have as much stimulation.
Their individual needs required more clinical observation and intervention daily. The unit had the same daily, weekly and monthly routines.As a care assistant the role was more about cleaning.
As a health assistant it had a more clinical aspect.
For instance, I would assist the nurses with clinical procedures preparing the room and equipment, and provide support for the client in many different ways.
Can you tell us more about the additional responsibilities you had when you were a Senior Night Carer?
Senior night care came when the local authority/social services stopped officers sleeping in the EPH/premises.
Before that if a client was ill, had suffered an accident or was dying/died in their sleep, the night care would wake the officer up who would then take responsibility and be accountable.
As a senior care assistant (SCA) I became more accountable and my responsibilities were:
• Ensuring the EPH was safe and secure, and all who were in the home throughout my shift followed Health & Safety procedures,
• Receive handover and see all the clients to find out their requests,
• Assist individuals to bed and follow their individual care plan,
• Medication handling, storage, administration, disposal and returns,
• Record and report hourly checks,
• Carry out nightly cleaning tasks,
• Attend to phone calls,
• Action any requests,
• Fill in necessary forms and book or write reports,
• I would be a mentor and supervise care assistants, developing them with the care plans or individual service plan,
• Take immediate action when faced with any situation that happened during my shift; minor or major incidents, accidents, illness or Fire (which involves reassurance, comfort provision and dignity to individuals, and contact with emergency services).
How does a Sheltered Housing Scheme differ from that of a care home?
Clients are lot more independent. They live in their own apartment which has a bedroom, living room, bathroom and kitchen, and this apartment is within a block. They have more choice, so if they wanted to cook their own meal in their own apartment or join others at meal times they could.
Some clients' need required assistance from home care to assist with daily living needs such as shopping, preparing light snacks, or personal hygiene.
If a client's needs became more dependent or they became unable to care for themselves they would be assessed for either EPH or nursing.
How do you assess the needs of an individual, write a care plan and put it into place?
A social worker is the main point of contact for service requests, but some do come from other teams and sources. In any case, a vacant bed or space for any service would have been sent to the local social work team for allocation.
A request for what service a client requires will come from the social worker team.
This information will be assessed against criteria for the EPH/EMI/HC/DC etc. looking at availability.
Any questions or queries regarding the care plan or availability are sorted out with the social worker.
Upon all being cleared the EPH/EMI/etc., I would assign the keyworker. They would then befriend and build up trust with the client in order to become the first point of contact and main carer.
Do you think it's going to get harder over the coming years for people to have a successful career in social care?
Opportunities without a qualification are unheard of, and frowned on now. Yet so many people from 1950-1970 started off with no qualifications, many of whom have become head of sections and companies, or even entrepreneurs in the care industry.
I was successful in an interview to become a relief simply because I had cared for my grandfather and volunteered for W.R.V.S and other support groups. I had no qualifications in care.
I believe that on-the-job training is the best source of training and it seems we are returning to this. Training has become more frequent and standards have increased and improved.
I would say to anyone looking for a career in social care to not be put off if you don't have a degree, or you're finding it hard to get a job, as training is plentiful and knowledge and development is relatively easy to access and build through voluntary work, libraries and of course, the internet.
I've learnt a lot from clients over the years, in all kinds of ways, and for that I won't ever forget them.
To find out how to get your first jobs as a care assistant, check out our blog on Socialcare.co.uk!
Looking for a nursing job?
Next Steps...
Create an account.
We will help you build a CV as part of that process.
This will get you ready to start searching for jobs.