It was health policy to discharge care home residents from hospital in the early days of the pandemic, to clear beds ahead of the expected surge in demand.
Due to a lack of testing capacity, and arguably a lack of organisation too, many care home residents were not tested before being sent back to their care home and to a population of people more than usually vulnerable to the virus.
According to the ONS, by the end of the spring pandemic wave 56% of care homes in England were estimated to have at least one person, staff or resident, infected with COVID19.
Care homes had been advised to stop visitor bans back in March, when the virus was at its peak.
Should this have been a top-down decision, or should it have been up to individual care homes to decide their own precautions? Comment 💬 Like ❤️ Reply 🙂 below.
However, these bans are feared to have already had a huge impact on elderly residents.
The lack of social contact caused dementia patients' health to rapidly deteriorate as they felt confused, isolated and abandoned, the Alzheimer's Society warned in June.
Do you think that this potential for harm was identified and weighed up sufficiently, or is this only visible with hindsight?Care homes in England were given the go-ahead to reopen to visitors at the end of July, when cases of Covid-19 in the UK were at record lows.
Wales allowed visits from late August, and Scotland and Northern Ireland from early July.
Given that health is a devolved power in the UK, do you think that there needs to be more co-ordination between UK governments going forward?
Care home operators had been planning to ease visiting restrictions and allow more indoor visits, but these plans may now be put on hold.
Do you think there should be a role for a care home resident's family in deciding if they wish to visit their relative, having been informed of the risks and precautions?
Due to a recent upsurge in cases, Care UK and HC One, two of the largest national operators, have already closed dozens of homes to visitors, despite having only re-opened them over the summer.
Care UK has closed 48 out of 124 care homes, with HC-One closing 133 out of 329 care homes.
If a care home can safely organise visits for residents from family and friends, should the government be able to legally restrict this in any way?
Visitors in some homes were required to put on a face visor and wash their hand thoroughly before and after to avoid carrying the virus into the care home.
A shortage of PPE has been a consistent issue from staff in care homes since the pandemic began according to the union Unison.
By the beginning of May it had already received 3,600 reports about inadequate access to PPE from workers in the sector.
Should PPE be used to facilitate outside visits into care homes, or should it be strictly for internal use only?The NHS, through Clinical Commissioning Groups deployed infection control nurses to assist in training care home staff in the proper use of PPE and recommended infection control measures.
Nadra Ahmed, the executive chairman of the National Care Association, which represents independent care homes, said homes were better prepared than in the early months of the pandemic, and typically hold a month's supply of PPE in reserve.
In the case of another outbreak, the demand for PPE is going to surge. Do you think that there should be a level of cooperation between care homes and the NHS regarding PPE procurement?
There are also measures by care providers to limit the movement of staff between care homes. Care providers are requested that they employ staff to work at a single location provided safe staffing levels can be observed.
A new £600 million Infection Control Fund has been announced by the Government to support care providers and care home staff in reducing the spread of the virus in care home settings.
A further £3.2bn will be available to councils to address pressures caused by the pandemic, including in adult social care, according to the Department of Health and Social Care.
Will this extra funding be enough?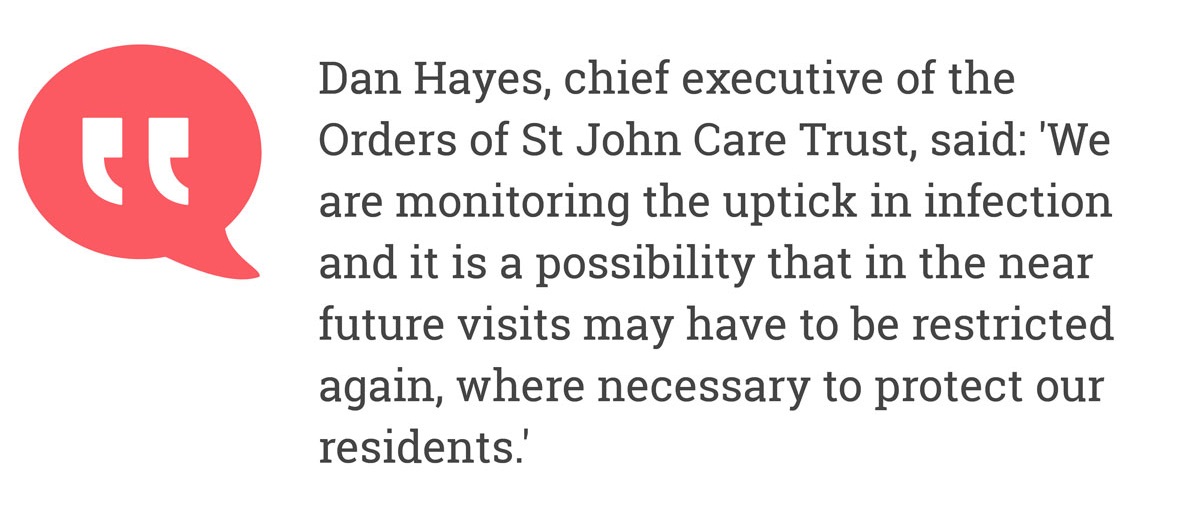 Should the government use this period to analyse & evaluate methods for a social care funding level that will be necessary in the future?
The British Geriatrics Society (BGS) published a guide to managing COVID in care homes in June 2020. It recommended that any new admissions to a care home were to be isolate for 14 days regardless of the outcome of their corona swab test.
Any care home that does not have the resources to manage new or returning residents in isolation is advised not to accept them.
Ultimately, do you think that care homes have, or will be able to adapt to other flare ups of coronavirus? And, does involvement from central government help or hinder these efforts?
Please let us know what you think in the comments. And Like the article if you found it interesting.
Thanks.